Scott Starbuck
received his M. F. A. in Creative Writing from Eastern Washington University. Students at Glendale Community College in Arizona voted him "Teacher of the Year." World Literature, Creative Nonfiction, Fiction, and Poetry Seminar are his favorite classes to teach as a Professor of English at San Diego Mesa College. When he is not teaching or writing, he hikes in Oregon or Washington, or communes with dolphin yoga masters in the waters off Encinitas. He lives in Vancouver, Washington, and San Diego.
Personal Statement: As a student of World Literature, your community includes all past, present, and future beings, in all directions across the entire universe. You are not limited by narrow visions, egos, and/or political powers of history's delusional leaders. Nigerian writer Chinua Achebe said "Storytellers are a threat. They threaten all champions of control, they frighten usurpers of the right-to-freedom of the human spirit -- in state, in church or mosque, in party congress, in the university or wherever." In a related matter, The Tibetan Book of the Dead explores a kind of "freedom through hearing" as well as the "Geography of Confusion" and "Geography of Awake." Regarding poetry, in the words of XJ Kennedy, you will "stand up on your hind legs and sass [or celebrate with] the universe" by exploring the greatest poets of all time such as Rumi, Kabir, and T'ao Ch'ien. Regarding fiction, you will learn, in the words of Noble Prize Winner Gabriel Garcí­a Márquez, how "It is not true that people stop pursuing dreams because they grow old, they grow old because they stop pursuing dreams." Regarding drama, you will learn, as Creon said in Sophocles' play Oedipus, "Time is the one incorruptible judge." Highlights of Eng, 220 World Literature I, include exploration of Taoism, Rabi'a, The New Testament, Augustine's sex addiction as explored through Joseph Campbell's study of the Hindu chakra system, parallels between Gilgamesh and Genesis, understanding Tiresias through a video in which Carl Jung explains the intuitive introvert, and understanding Chuang Chou, in part, through Douglas Adams' The Hitchhiker's Guide to the Galaxy. Highlights of Eng 221, World Literature II, include a videotaped Royal Shakespeare Company performance of Moliere's play Tartuffe, learning through Leslie Marmon Silko how the ancient Native American legend of "Yellow Woman" manifests in modern clothing, writing your own version of Swift's famous satire "A Modest Proposal" (in which, to prevent hunger, babies are used for gloves and stew), and parallels between Kafka's "The Metamorphosis" and the modern workplace.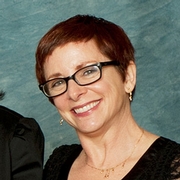 Wendy Smith
Wendy L. Smith
received her B.A. from UCSD and her M.A. from SDSU. She teaches all levels of composition, various literature courses, and creative writing. She works to promote intelligence, empathy, curiosity, and creativity in her students.
Personal Statement: "And the day came when the risk it took to remain tight inside the bud was more painful than the risk it took to blossom." -Anais Nin